Kolorbond International LTD will assist you in putting your own paint shop together. The equipment and configurations discussed here assume a batch style paint shop in contrast to an automated continuous process. Both entry level Low/Medium Volume (Boxes) and High Volume (Lineal spraying) are covered.
Three distinct areas will need to be prepared.
This area will be where any masking takes place, and the product is wiped down with an Kolorbond International LTD recommended cleaner. This area is primarily comprised of tables or dollies and is always located outside the spray booth itself. In the case of spraying lineals, the masking rack would be loaded in this location.Ideally this area will include a sink where paint preparation and gun cleaning will also take place.
Includes a Spray Booth (or otherwise vented area), Compressor and Filtration, and Spray Equipment (HVLP is recommended). Frames can be painted either horizontally (on a table, lazy Susan ) or vertically hung on rolling racks.
Drying essentially involves extracting the water from the coated surface. The dryer the conditions, the quicker this takes place. This effect will be accentuated as the air temperature rises up to a maximum temperature of 140°F for PVC, and higher for other substrates.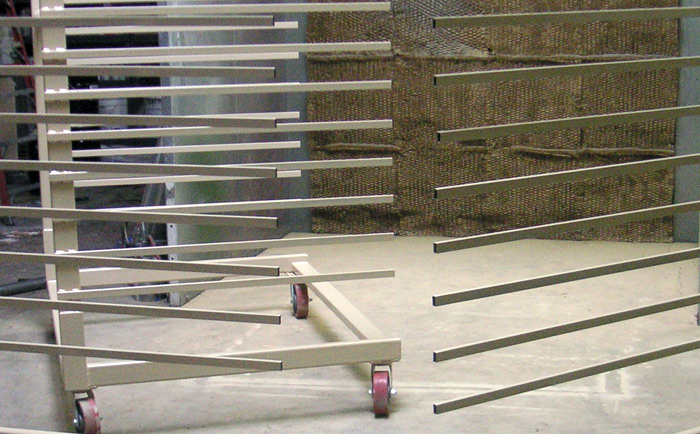 Of all steps in the process there are many possibilities when it comes to drying, depending on the investment you are prepared to make.
The Progression of Possibilities for Drying are as follows:
1/ Air Dry
2/ Fans at Room Temperature.
3/ Space Heaters to Increase Temperature
4/ Space Heaters and Fans.
5/ IR Lamps
6/ Conveyorized drying using IR and Convection (blowing hot air)
1 and 2 imply the curing time will be a function of the ambient conditions, i.e higher humidity means longer curing. Going to 3 or 4 will improve drying times significantly since the capacity of the air to absorb moisture increases significantly with temperature. 1-4 always happen outside the spray booth itself, potentially subjecting the sprayed components to dust. 4 represents a relatively low investment (components available from any hardware store). This approach to drying will need to include a space relatively dust free, i.e. an insulated room close to or attached to the spray booth is ideal.
The introduction of IR represents an incremental investment, however when placed inside the spray booth itself, the 15 minutes exposure time will produce the best finishes possible. In this context, while one cart is being exposed to the IR, the next item is being sprayed. Additional curing is still required even when IR is used since any areas not exposed to IR rays will need additional curing.
The area used for this can be the prep area, or fabrication plant itself since susceptibility to dust is no longer an issue. Energy consumption for IR is lower than for the space heated approach.
The objective of the drying equipment is to dry the product enough to process it further, not necessarily to reach 100% cure, which can take as much as an additional week.
Curing start when all water has been removed from the coated surface. Boxes can normally be processed the next day.
Lineals require 72 hours to build up sufficient marr resistance to process through an automated line.
The best way to access curing is through either a scratch or cross hatch adhesion test.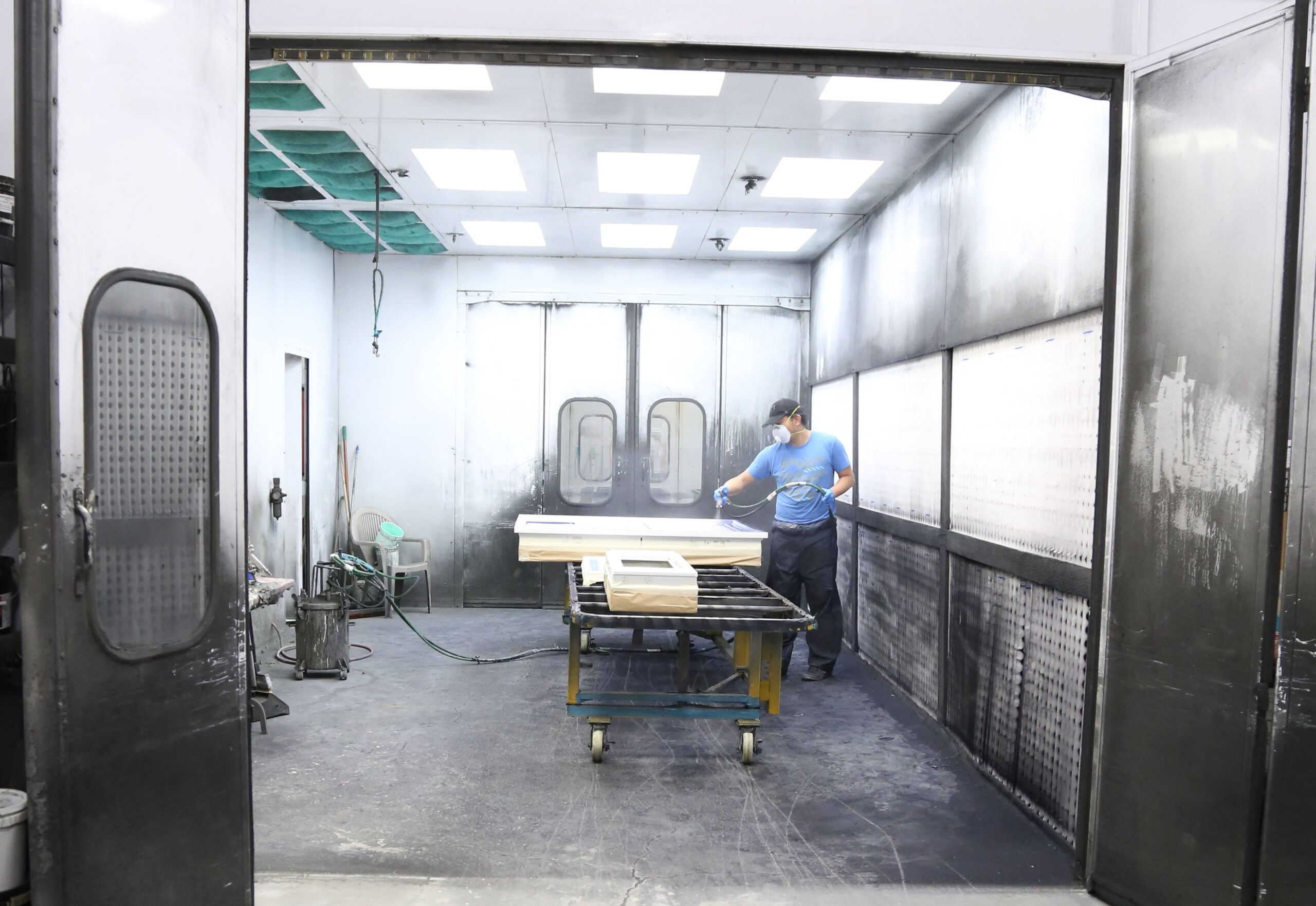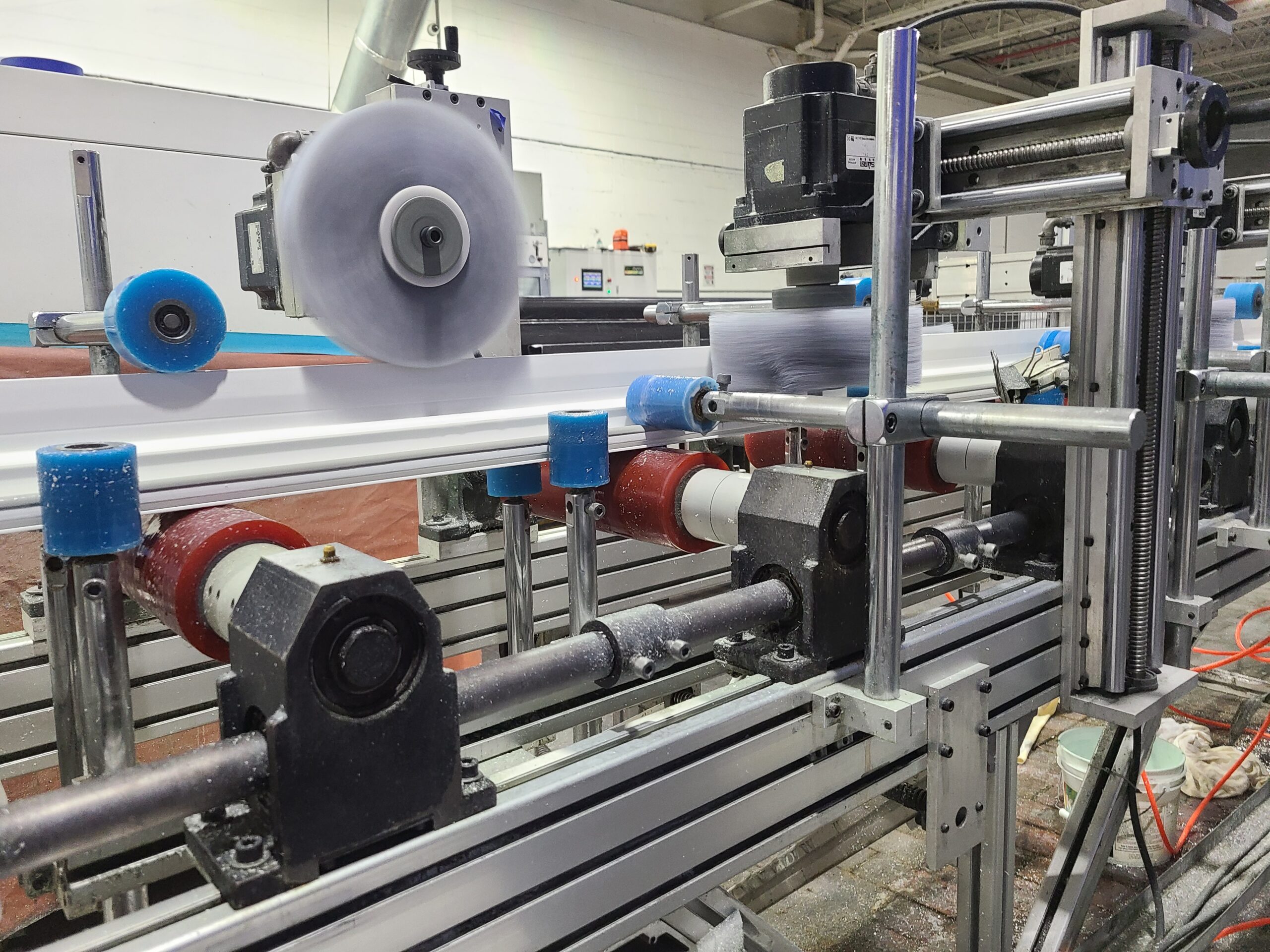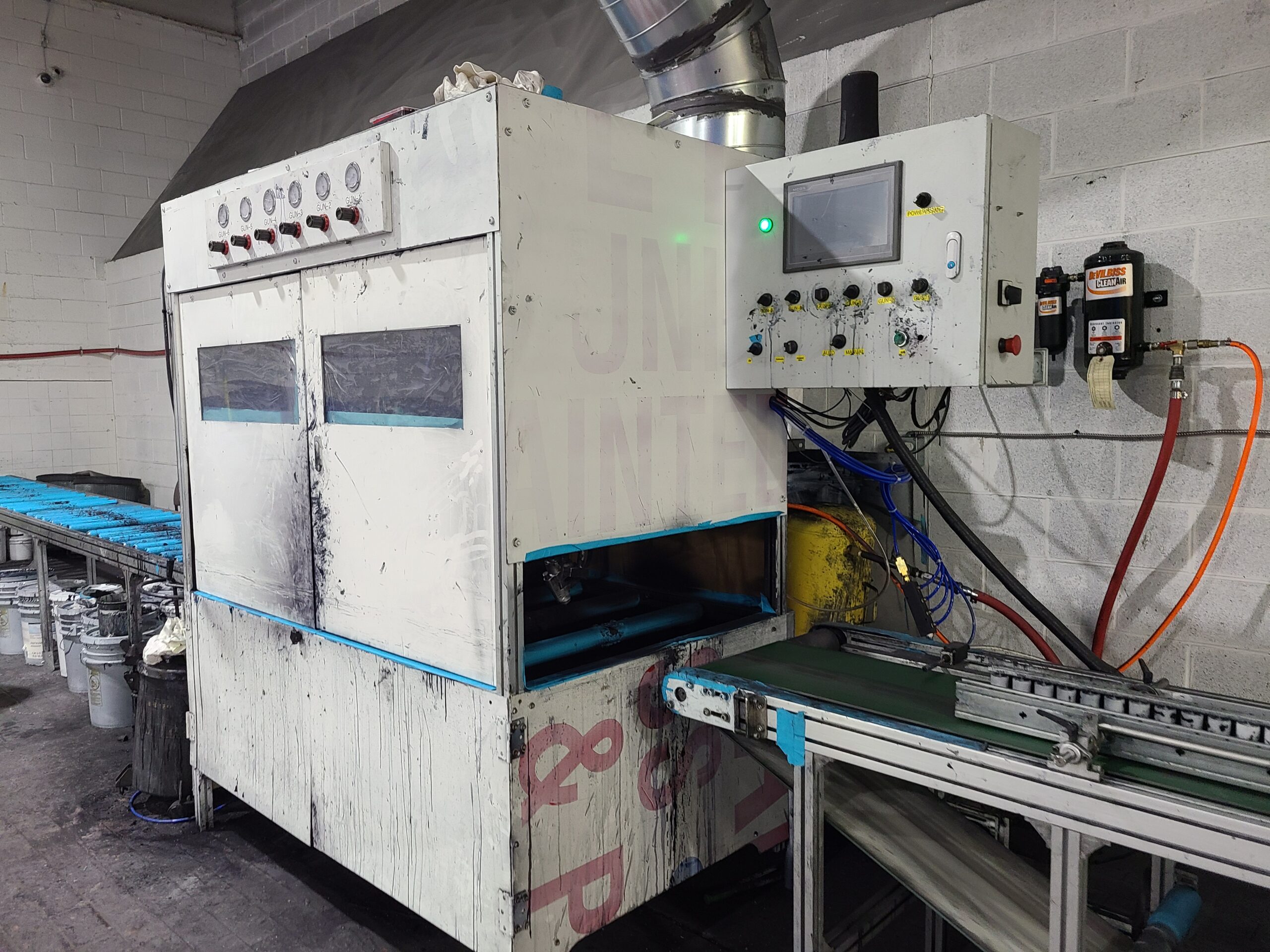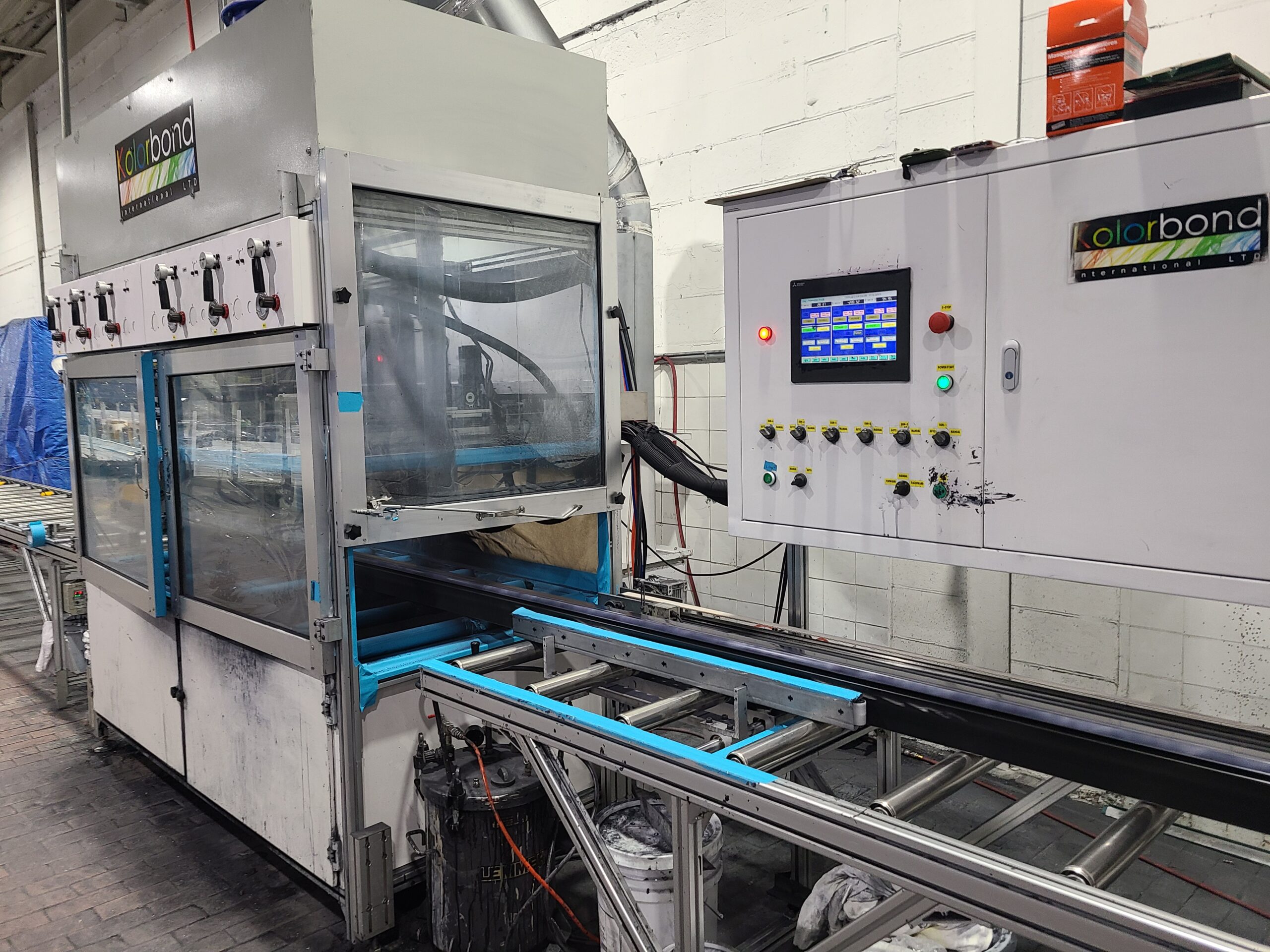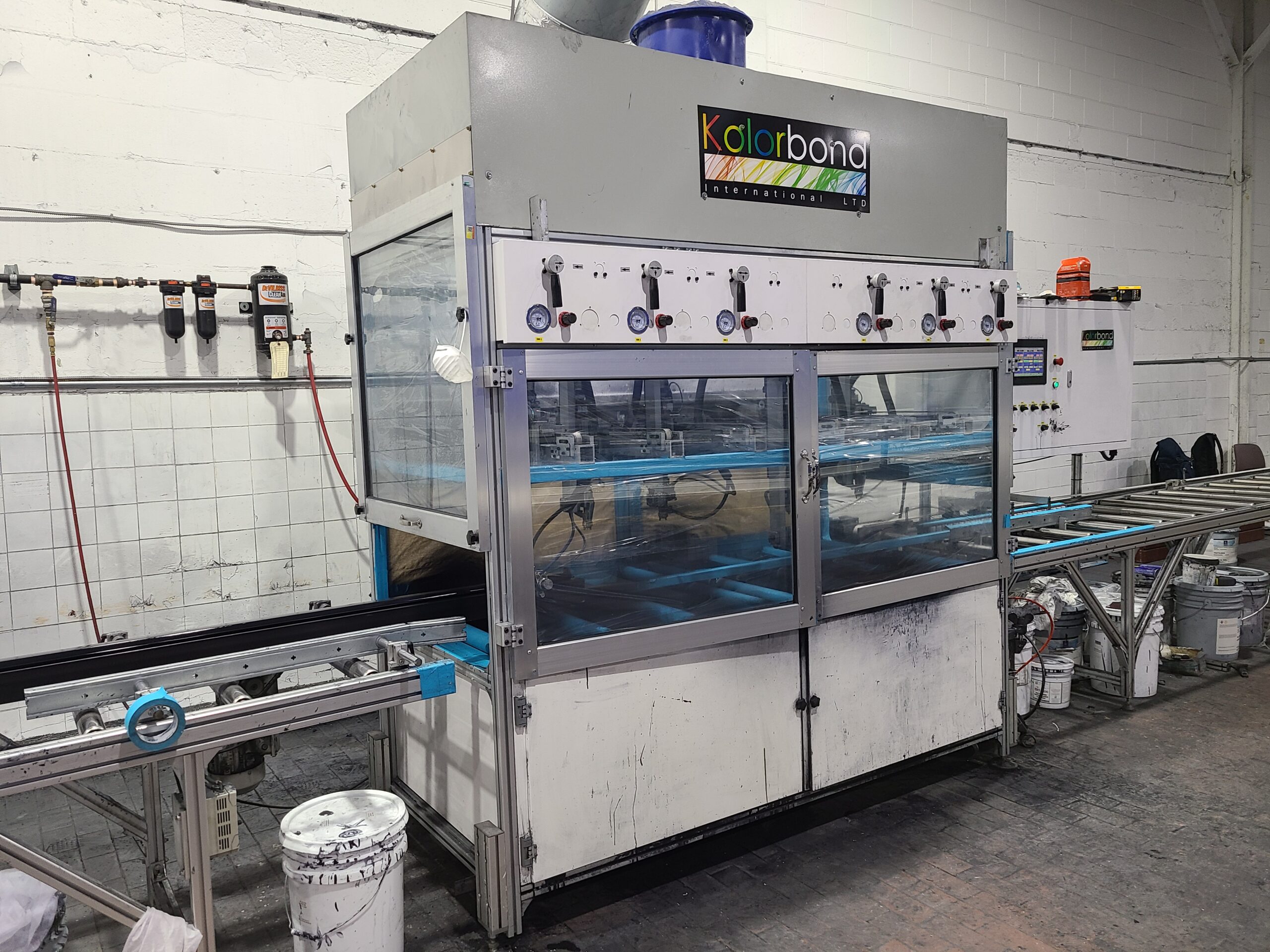 > www.infratech-usa.com (see Portable Curing)
The main purpose of the spray booth in the context of a water based coating is not to remove toxic fumes as much as it is to remove any overspray from the environment.
Commercially available spray booths (cross draft design is good) are a good option for spraying boxes.
Semi-down draft booth configurations are best for coating lineals.
If you Decide to Build your Own Spray Room
If you decide to build your own spray room, certain rules of thumb need to be followed.
The total volume of air flow can be calculated by taking the cross sectional area (not length) in square feet and multiplying by 100 to arrive at the CFM requirement. Ex. 8 ' by 10' would require 8,000 CFM.
With this arrangement the air flow would be drawn along the length of the booth, the piece being painted would be positioned between the painter and the exhaust. Even flow is important.
In the case where spray booths are drawing air from the inside of a building, there may be a requirement to introduce an air make up system, depending on how long the booth operates, and how large the space is.
Air Make Up is also recommended for better control the environment inside the boots, creating more consistent results.
Painting the floor within the spray booth is recommended.
LH1100 Automatic Coating Machine
The LH1100 was designed specifically for use with AquaSurTech OEM 's D200 & D100 paint formulations.
Paint Your Doors Automatically
1/ Improve Productivity and Quality
2/ Reduce Coating Costs
Designed to coat composite doors, the LH1100 is also capable of coating PVC windows boxes, and pre-cut lineals up to 8' ft. long.
1-2 operators (not painters) required to handle profiles
• Max. painting coverage is 98" L x 43" W
• Footprint: 15' L x 14' W x 10' H
• Weight: Approx. 4,000lbs
• Spray gun speed up to 15 m/min
• ADTECH 5 AXIS CONTROL SYSTEM
• Discrete mode has capability of flipping doors for 2-sided painting
• Optional Conveyor Mode accepts continuous feed of doors
• Applies coating evenly over multiple passes for optimum finish and uniform thickness
• Saves coating by optimizing spray trajectory, bypassing cut outs
• Multi axis control optimizes coverage in recessed areas
• Exhaust and air intake system included
• Training and installation included
• F.O.B Toronto, shipping fees extra
• 6-8 week lead time from Purchase Order